Malaysia's Gross Domestic Product (GDP) trend
Malaysia's Gross Domestic Product (GDP) trend
Our topic this time is on GDP trends in Malaysia. We will first look back at the GDP figures of 2020 followed by quarterly monitoring.

Source
Following the outbreak of the COVID-19 pandemic, Malaysia's economy, much like the world, suffered extensively. After a steady growth in GDP at 4.8% in 2018 and 4.4% in 2019, a sluggish growth in 2020's economy saw a negative 5.6% growth. Nominal GDP at current prices was RM1.42 billion and real GDP at constant prices as of 2015 was RM1.34 billion.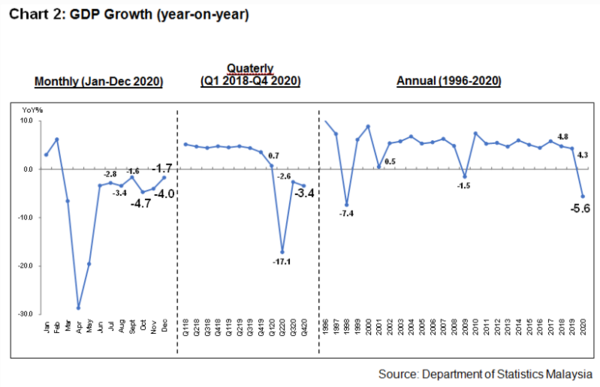 Source
In the past 25 years, Malaysian economy has experienced two economic downturns. The first was due to the Asian financial crisis back in July 1997 that started from Thailand, causing the weakening of Malaysian Ringgit in a couple of days. In the following year, Malaysia's GDP fell further to negative 7.4%. This economic occurrence took place again in 2008, when the financial crisis hit western countries, affecting Malaysia's economy in the midst as well. The country's GDP growth rate in the following year became -1.5%. The country has managed to maintain the GDP growth rate for more than ten years later on, until 2020, which brought the growth rate back to 1998 levels.
In order to curb the outburst of infections during COVID-19, Malaysia implemented Movement Control Order (MCO) from March 18 to August in 2020. This order restricted travel movements of Malaysians to countries abroad and vice versa, limiting household movements to within the 10km radius of residence for purchase of daily necessities and hospital visits only. Even government and private operations with the exception of specific industries were prohibited. It is said that the Malaysian government suffered a daily loss of RM 1 billion during this MCO period.
Meanwhile, the Malaysian government has commenced a number of stimulus packages for its recovery plan, focusing on three main areas: the well-being of citizens, business resumption, and economic resilience.
Trend in Overnight Policy Rate
The decrease in GDP also affects Overnight Policy Rate (OPR). OPR is the minimum interest rate for financial institutions in loaning money to each other in the interbank market. The direction of OPR is decided based on the economic condition and outlook, and OPR level determines the interest rate in the credit and other financial markets. When the economic growth is weak, the OPR rate will be adjusted lower, lowering interest rate. When interest rates are lower, consumers and businesses have a lower borrowing cost, which in return boosts their consumption and investment expenditure.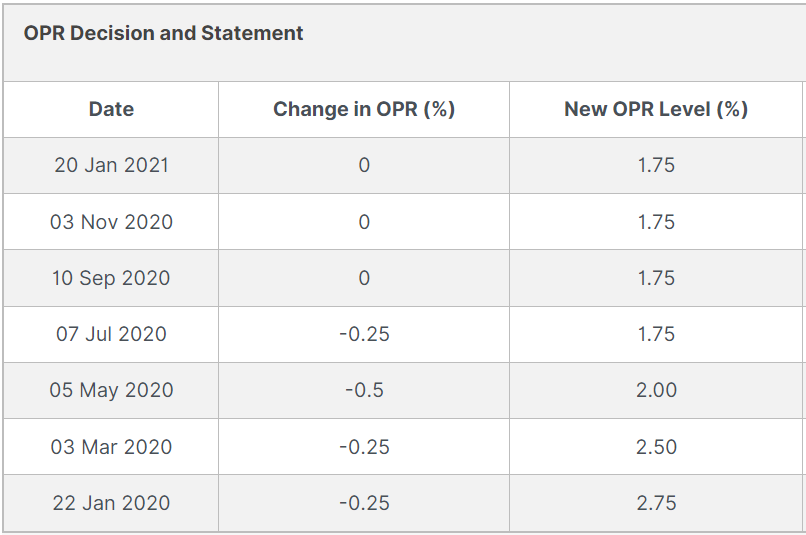 The monetary policy committee of the central bank of Malaysia, known as Bank Negara Malaysia (BNM), decided to lower OPR rates from 3.00% to 2.75% in January 2020. Subsequently, the OPR rate has been continuously lowered standing at 2.50% in March, then 2.00% in May, and 1.75% in July. The only time that the OPR rate was below 2.00% was back in May 2004, therefore, this is the first time that the rates have fallen lower than back then.
Furthermore, BNM has instructed all bank to halt auto repayment to financial loans, with the exclusion of credit card balances, for six months under the National People's Well-Being and Economic Recovery Package (PEMULIH) initiative. This was set in place to help ease financial liabilities of small to mid-size business and individuals that are most likely to be affected by the Covid-19 pandemic. BNM has also encouraged businesses and consumers in considering adding financing in easing immediate cash flow crisis and extension of investments, along with reuse of existing facilities in ensuring adequate time allowance for the country's economic recovery from the disruptions by the pandemic.
---
We hope this article will be useful for those who are considering of doing business in Malaysia.
---
This article was written by
TK International Sdn Bhd
based on locally gathered information.
While we try our best in making sure the information provided in the contents and articles of this site is as accurate as possible, we do not necessarily guarantee the accuracy of the content. Unauthorized reproduction of content is prohibited.
« Foreign Direct Investment (FDI) trends in M... | List of companies listed on Bursa Malaysia (... »