MDEC - UNGCMYB Signs MOU to Accelerate Sustainability and Climate Action adoption in the Digital Economy
2022/07/19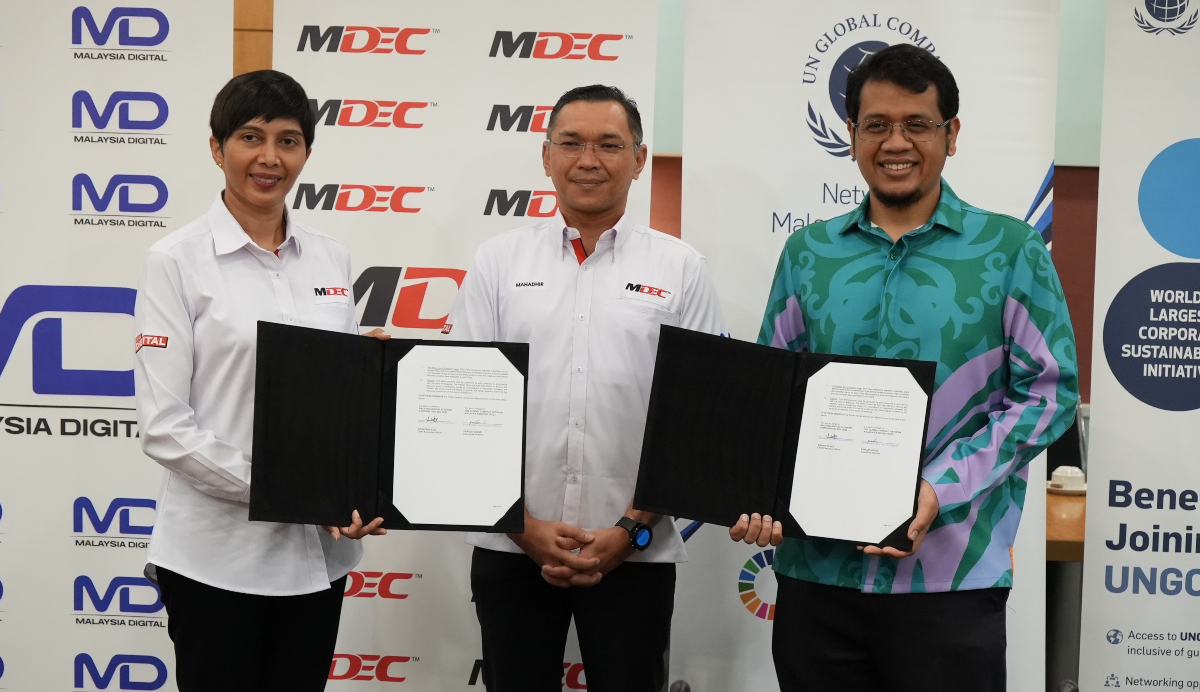 Malaysia Digital Economy Corporation (MDEC) signed a Memorandum of Understanding (MoU) with the UN Global Compact Network Malaysia & Brunei (UNGCMYB) to further raise awareness, build capacity and increase sustainability and climate action adoption across Malaysia's digital economy
MDEC said in a statement that it will work with UNGCMYB in raising awareness, building capacity, and increasing adoption across companies in the digital economy in five key areas:
Developing a climate action guide and toolkit for digital economy companies to help them assess their actions and carbon footprint.
Exploring ways to increase access to chargeable sustainability e-learning programmes for tech small and medium enterprises (SMEs); and promoting freely accessible e-learning resources, including through the Digital UNGC Academy.
Promoting sustainable practices among tech organisations to help them achieve sustainable performance.
Encouraging digital economy businesses to adopt initiatives that address climate change, for example renewable energy or energy efficiency measures.
UNGCMYB is the official local network of the United Nations Global Compact (UNGC), which aims to mobilise a global movement of sustainable companies and stakeholders.
MDEC said that this MoU builds on an existing collaborations between two organizations, namely the Malaysian Corporate Sustainability Pulse Report 2022, with MDEC as a partner.
The report was released on July 14 to understand the extent to which Malaysian companies are prepared to adopt, measure, manage, and monitor sustainability in their respective organizations.
Chief Executive Officer of MDEC, Mahadhir Aziz, said the public-private approach towards championing sustainable actions is essential and is a national development priority as outlined in the Twelfth Malaysia Plan (12MP), consistent to the Sustainable Development Goals (SDGs) of the 2030 Agenda for Sustainable Development.
"Sustainability is not a new buzzword but an important goal that goes hand in hand with the development of a thriving digital economy. "
He adds, "MDEC is fully committed to encouraging the adoption of sustainable practices in the digital economy ecosystem."
Executive Director of UNGCMYB, Faroze Nadar said, "With this partnership with MDEC, we aspire that the Malaysian digital economy ecosystem will be a key catalyst for sustainable nation building and as a global contributor to achieving the SDGs"
MDEC adds that Malaysia is still committed to climate action and is striving to become a carbon neutral country as early as 2050.
As outlined in 12MP, the government aims for a 45 percent reduction in greenhouse gas emissions intensity of GDP by 2030 as compared to 2005. The government also aims to achieve 31% renewable energy mix by 2025
Source: MDEC
« Outlook on Malaysia improves from rising oil prices = Moody's | TeamLab is transforming the rooftoop terrace of Lalaport BBCC Kual... »