ORIENTAL HEAT TREATMENT(M) Sdn.Bhd
Innovative technology Black Pearl Night: Extended mold life, greatly reduced mold release agent
Metal heat treatment processing and mold surface treatment
In June 1996, our company was established as the first Japanese heat treatment company in Malaysia. In October 2017, we started to provide surface treatment services for molds. The following is an introduction to the features of black pearl night (BPN).
1) BPN technology was jointly developed with Toyota Motor Corporation (patent registered on November 6, 2015)
2) Low temperature processing (550℃ or lower) minimizes deformation and dimension change (within a few microns)
3) Mold life is more than twice as long as that of conventional nitriding treatment (heat check, melt damage, prevention of burning)
4) Improved workability by release-free or greatly reduced (smooth mold surface)
5) Applicable to die-casting molds (aluminum, zinc, magnesium), casting, forging and extrusion molds (aluminum, iron), plastic molds and mold components (ladle cups, sleeves, plungers, pins), etc.
6) Application examplesAS die casting mold AS die casting mold: Changed conventional coating and nitriding to BPN to improve cost and workability
BE forging (iron) mold: 5,000→15,000 shots, 4,000→24,000 shots "Significant cost reduction"
MA's plastic molds: 1 month life →4 months "Can be changed to less expensive plastic materials"
7) BPN is cheaper to process than PVD, CVD and other coatings
We would like to make a small contribution to the industrial development of Malaysia with our heat treatment business. We can provide BPN, nitriding, carburizing, quenching and annealing treatment for molds and parts.  
We aim to be the No.1 company in ASEAN in terms of customer satisfaction by making daily efforts to improve quality control and quick delivery.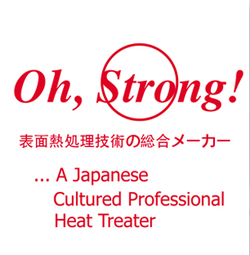 Company Name
ORIENTAL HEAT TREATMENT(M) Sdn.Bhd
Address
Lot 1, Jalan Industri 3/4, Rawang Integrated Industrial Park, 48000 Rawang, Selangor
Business
Heat treatment services for carburizing, carbonitriding, nitriding, and surface coating