Opening ceremony of Green Job Portal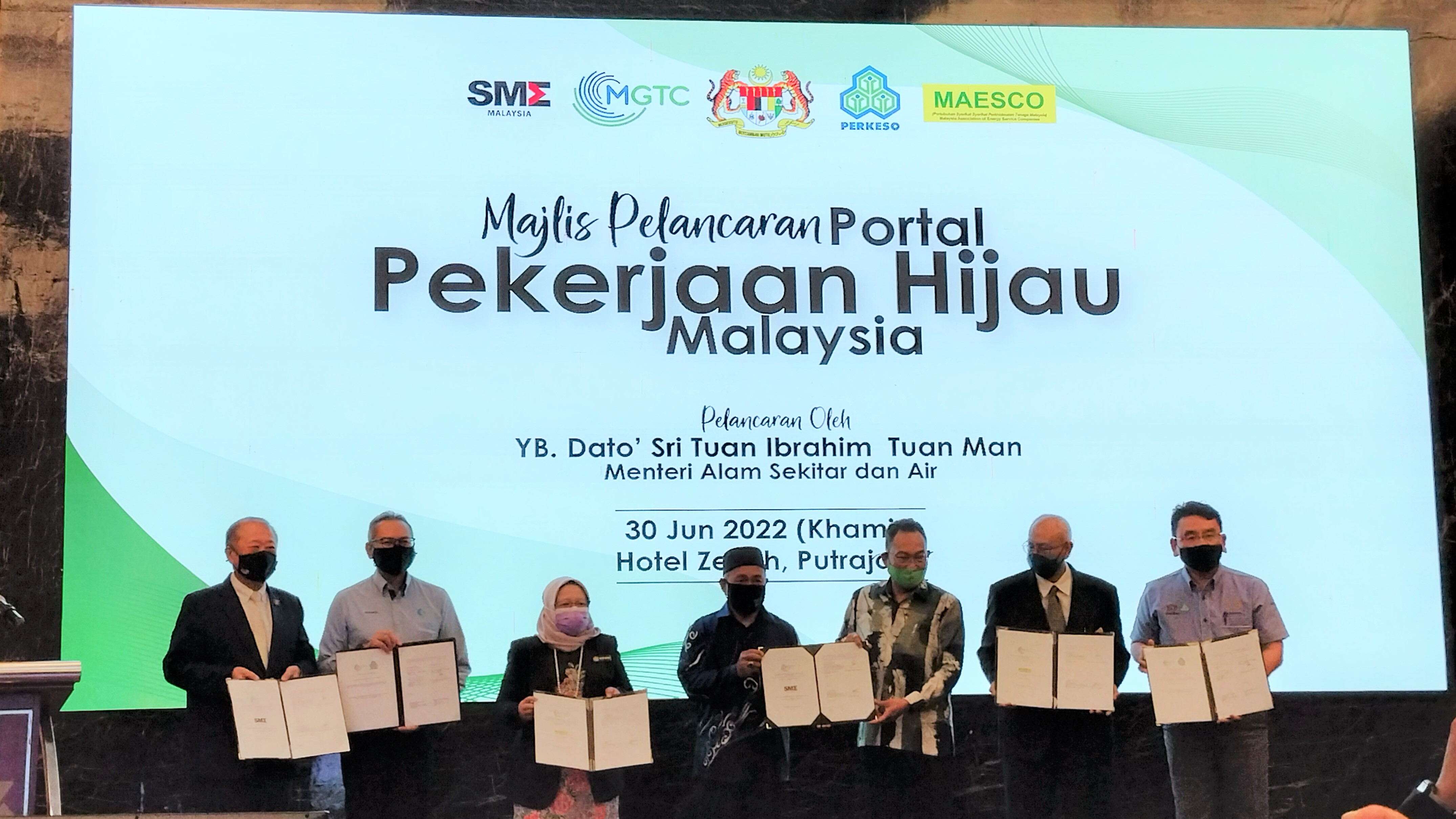 A Memorandum of Understanding (MoU) has been signed between Malaysia Green Technologies Climate Change Corporation (MGTC), the Malaysian government body (represented by the Ministry of Environment and Water, Ministry of Human Resource), The Social Security Organization (PERKESO), Malaysia small to mid-cap business association, and Malaysia Association of Energy Service Companies (MAESCO) in the establishment of "Malaysia Green Job Portal". This will be the first platform in monitoring and maintenance of green initiative related job listings.
Summary of MGTC CEO Ts. Shamsul Bahar Mohd Nor's Speech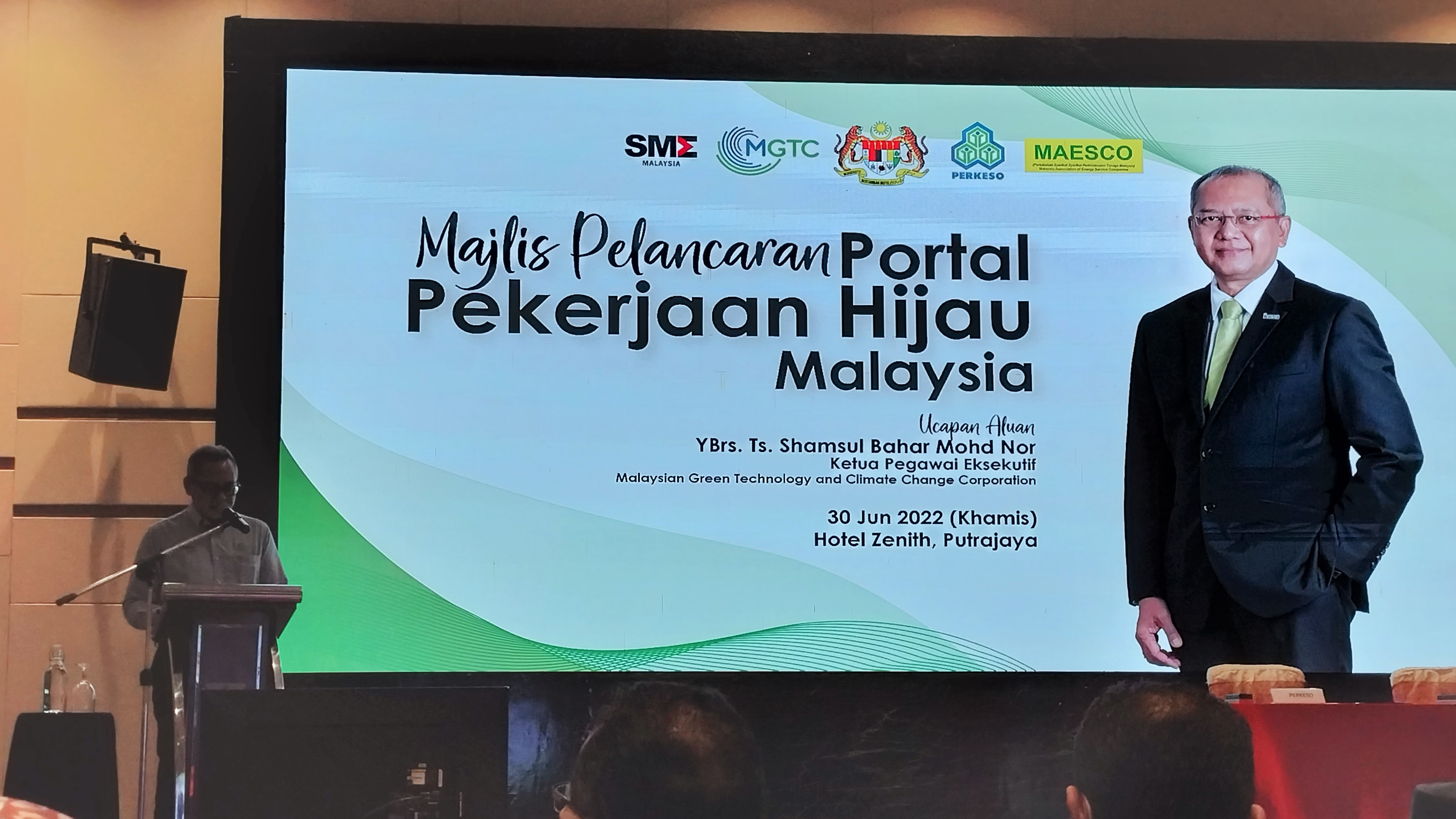 In this initiative, MGTC will serve as the data centre for the government, industry shareholders, regional and international investors in strategic planning for Malaysia's green industry. This portal does not just serve as a hub for job seekers in the green industry in Malaysia but will also serve as an information provider on training programs, seminars, workshops, forums and conventions by related organizations for mid to senior level skilled workers.
The country's Green Technology master plan of creating more than 230,000 green employment opportunities by 2030, targets the establishment of approximately 17,000 Green Technology related firms. The data collected at this portal will be used as reference by MGTC and the government in evaluating the effectiveness of this program and on public awareness of green lifestyle.
America has increased its renewable energy related occupations by 230% in the past 5 years. The fast-growing pace of the ecosystem management and pollution prevention industry in America is quickly becoming the country's Green Technology exports. We look forward to great results from this portal.
Summary of Ministry of Environment and Water Minister Dato' Sri Tuan Ibrahim Tuan Man's Speech
In alignment with the 2030 UN Sustainable Goals Report, the government, through the ministry of environment and water play an important role in generating a positive ecosystem such as providing job opportunities for semi-skilled to skilled workers. According to Malaysia's Environmental Sustainability Plan for 2020, around 147,710 green job opportunities have been created as of today, which is in alignment to 2030's goal of 230,000 green employment opportunities. In terms of ASEAN, ASEAN Declaration on Promoting Green Jobs for Equity and Inclusive Growth of ASEAN Community was establish on November 13, 2018. This shows a collective unison in promoting employment in green related industries in various sectors such as energy efficacy, urban development and closed loop economy. By promoting low-carbon initiatives, it is estimated that the creation of 24 million Green-related employment opportunities by 2030 will replace its previous sector's 6 million job employment.
Malaysia needs to actively explore opportunities in sustainable development to create a high-performance workforce and to achieve a stable economic environment that will attract more investors. Cooperation from many interested parties such as government agencies and private sectors is necessary. This will strengthen green economy growth and at the same time, protect the environment.
« IRGA Sdn Bhd - AgriTech | What is the meaning of "Jaya" often seen in Ma... »