Rivil Sdn Bhd - Development of water treatment technology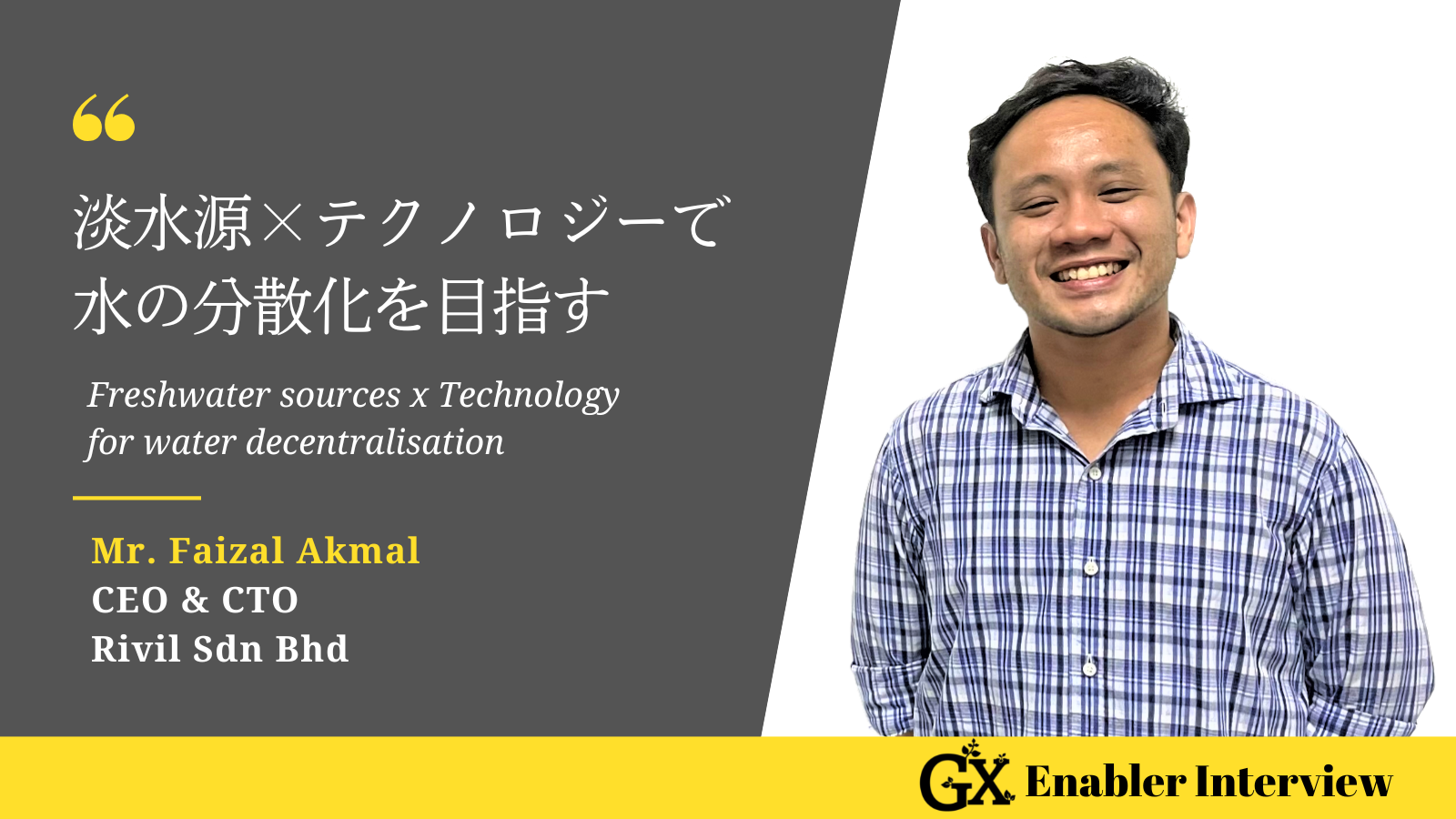 Rivil Sdn Bhd is commited to water innovation has partnered with some of the world's leading water innovation companies. We spoke with Faizal, founder, CEO and CTO, and Muizz, Sales Manager of Rivil Sdn Bhd. (All comments are from Mr Faizal otherwise stated so)
Please tell us about the business's current condition.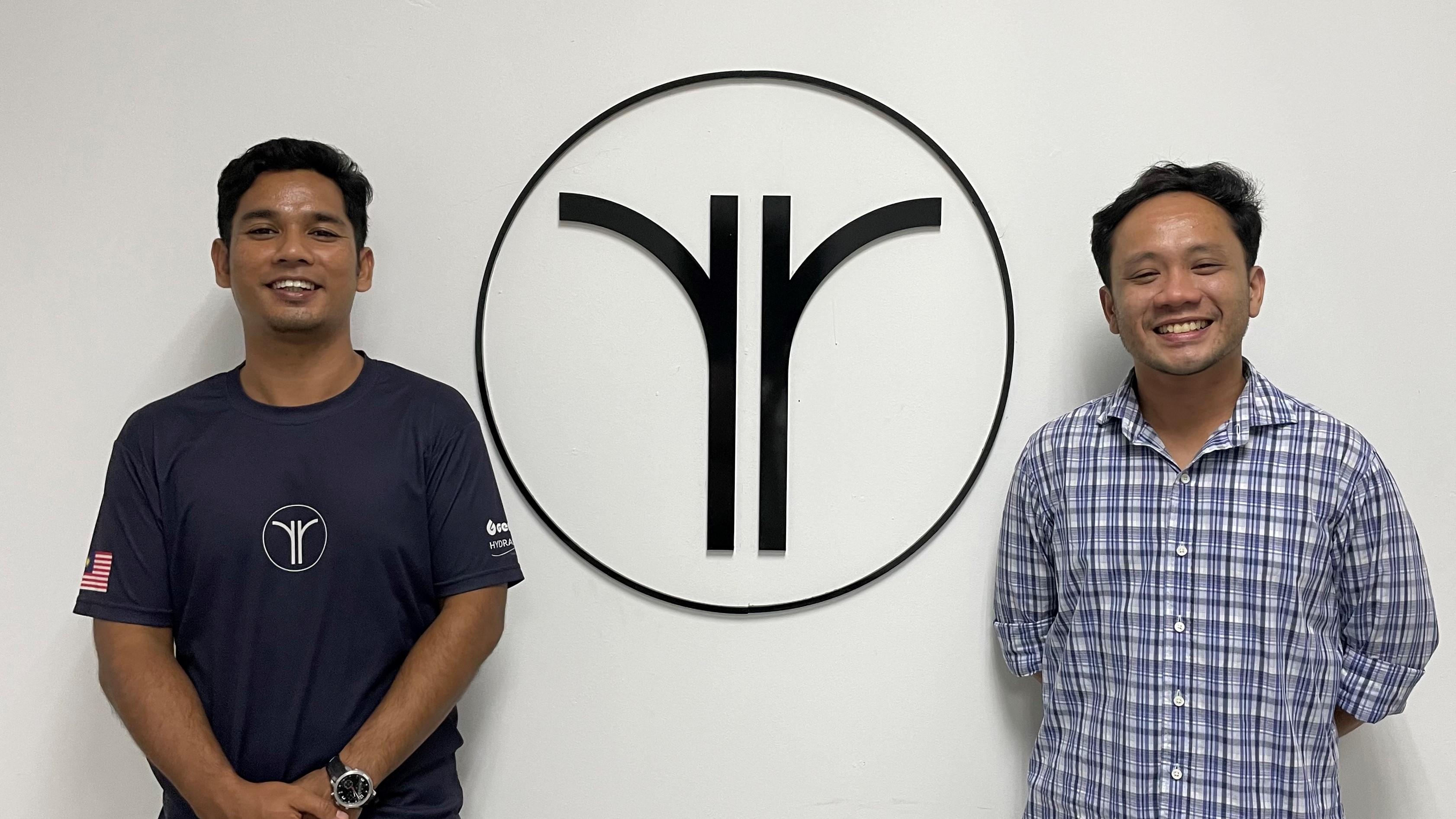 About us
Our mission is
"Accelerate Access to Freshwater at affordable cost"
, which means "faster attainment of affordable Freshwater through utilization of all resources and introduction of new technologies ". In summary, our mission is to deliver clean water, at a cheaper and faster cost, to the people. The company currently has six employees and has secured financing from Cradle Fund Sdn Bhd (an investment fund for tech startups) by the Malaysian government.
Production lineup
Currently, there are 3 main technologies in the development and deployment stage.

The first is "Water generation from air ".The air we breathe in contains water vapor (humidity) which is then collected and cooled, transforming it from gas state to liquid form through this condensation process, creating Atmospheric Water Generator, AWG. Air that is collected is cooled down to dew point temperature, producing water droplets which will then go through repeated layers of filtration. Further addition of minerals and bacteria sterilization through ultraviolet rays, produces drinkable water that meets WHO (World Health Organization) and Malaysia's Ministry of Health safety standards. It is possible to produce 50~5,000 litres (equivalent to 15~2,500 people. The largest amount produced depending on factory size and type can go up to 1.5 million) a day.

The beauty of this technology is that it is independent of installation location, so long as air and energy sources are available. It is suitable for remote locations such as oil and natural gas offshore mining facilities, remote islands, and oil palm plantations. Large scale plantations may not have sufficient irrigation systems therefore rain water maybe the only source of water.
Based on the technology from GENAQ corporation in Spain, AWG specifications have been tuned to accommodate to the hot and humid climate of Malaysia and customized for each customer's application.

The second one would be "Recycling of greywater"。We are the sole company in partnership with Dutch company's Hydraloop. Greywater (domestic wastewater excluding faecal deposition) from houses can be reused through bioreactors, saving up to 50% of water consumption. This efficiency use of water also helps to reduce sewage operating load.
This technology has received a lot of inquiries from green initiative related residential builders and developers of commercial properties such as hotels and mosques.

The abovementioned product lines have received MyHijau certification (Malaysia's local green product certification).

The third is "Water software"。 This software analyzes water usage and sensor data for much more efficient water management. For example, there are certain areas in Malaysia, especially in rural areas that do not have access to water. This is due to aging infrastructure such as pipe bursts and leaks, and theft due to illegal extraction. To solve this issue, we are working with technological partners in Singapore in developing a system that detects water leakages.
What issues are there?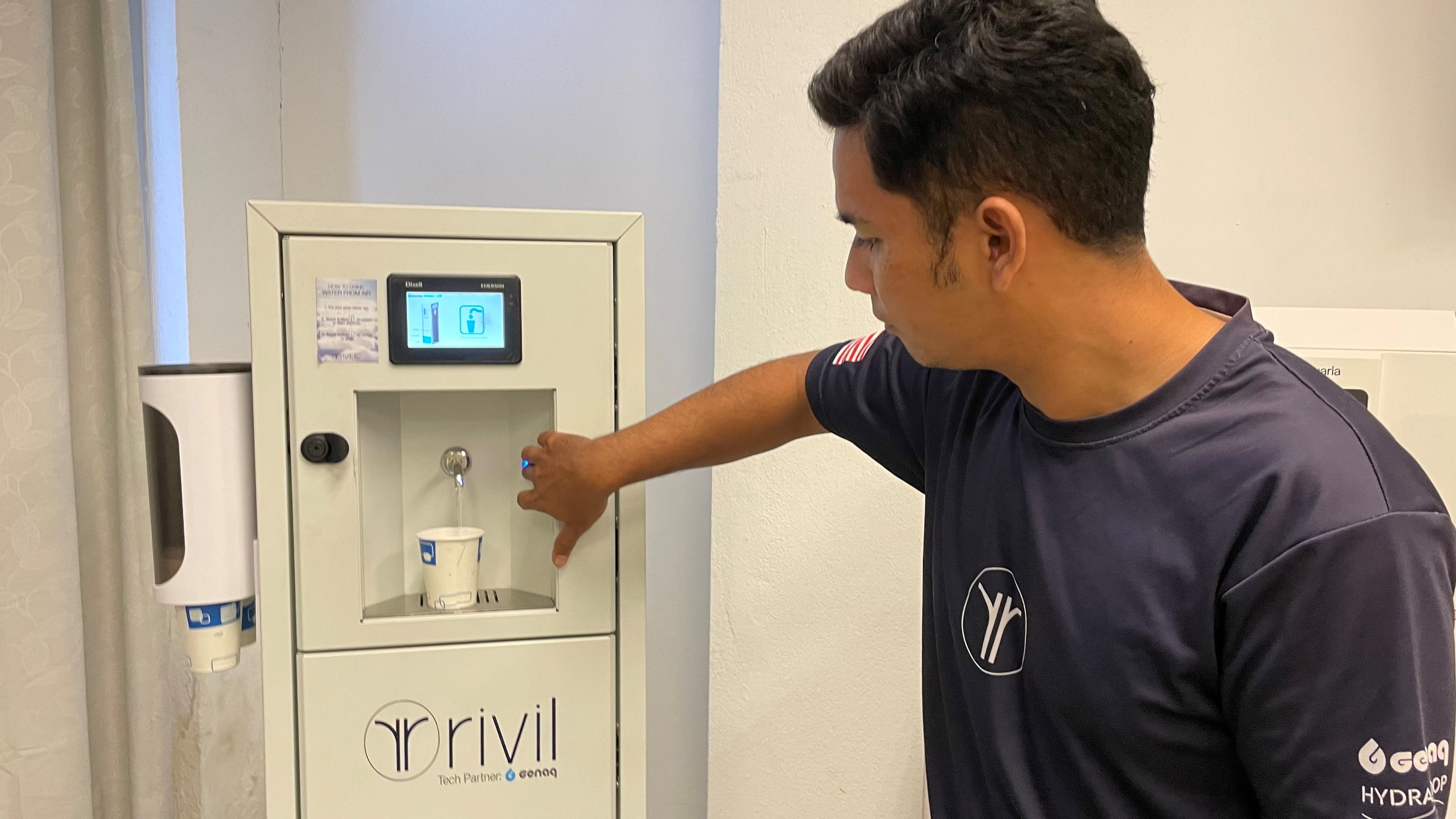 Mr Muizz:First off, AWG is not recognized in the industry yet therefore we need to start creating awareness towards this technology.
Even though water can be generated from air, there is still room for improvement on this technology. For instance, AWG is powered by electricity, but we are looking at replacing it with solar energy. However, the energy consumption and cost-effectiveness of generating 200 litres of water per day is not happening yet.

We are working hard in promoting the advantages of using these technologies. For example, food and water supplies are usually transported and supplied to offshore oil facilities by boat. With the adoption of AWG, it can help reduce storage space that is limited at offshore facilities, eliminates the need for collection of empty bottles, and reduces logistic distribution costs such as fuel and labor. However, it is not an easy task to change operational cost of existing operations, we will continue to improve our technology for better performance to further promote our technology into the industry scene globally.
Please share how this all began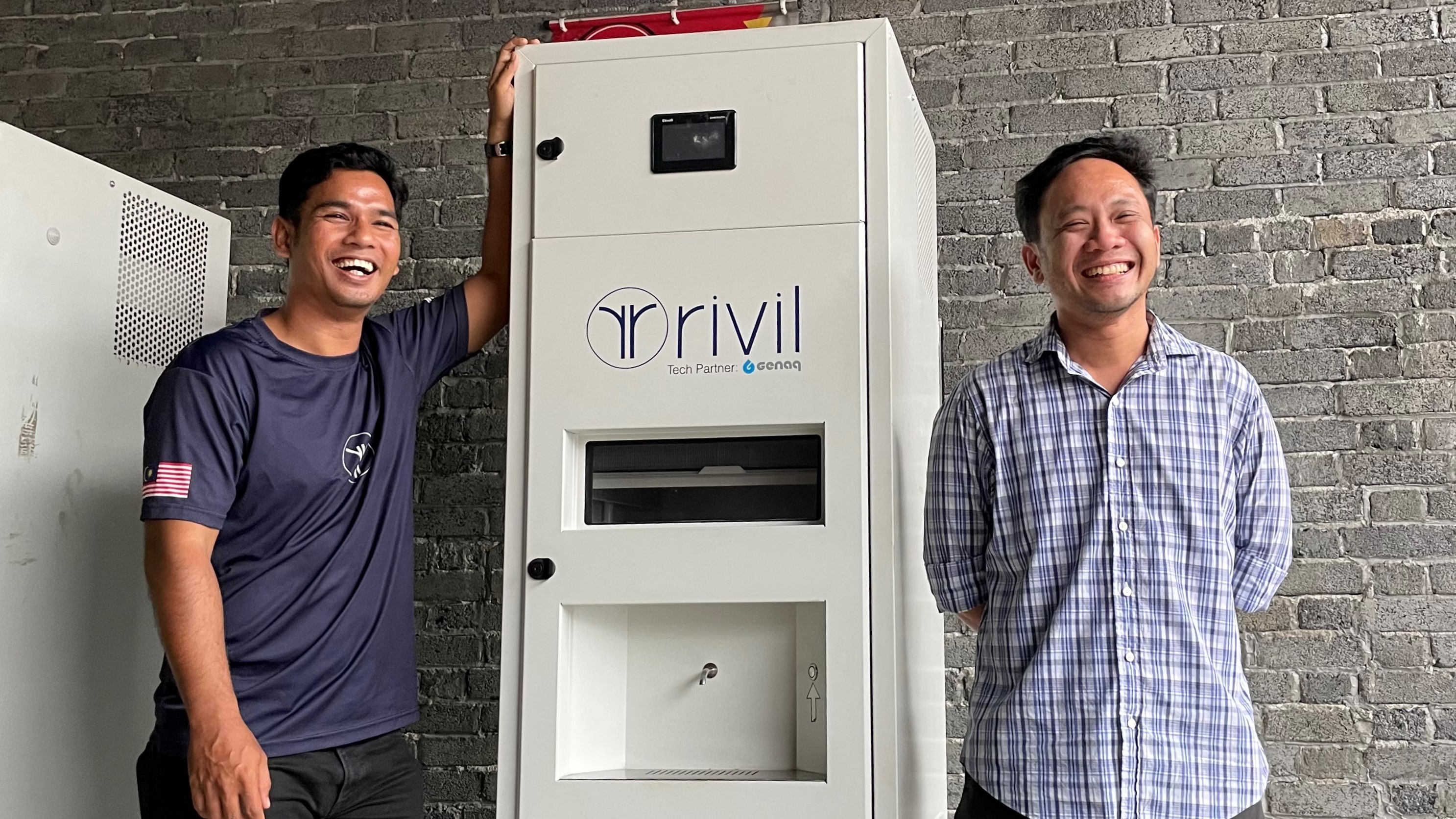 Founding history
I studied abroad in Japan from my third year of university and graduated from Tokai University in Automotive Engineering.
Upon returning to Malaysia, I worked for several companies, including an automobile manufacturer. I started considering of starting my own business when I was reading "World Scientists' Warning to Humanity - Second Edition" (2017 publication).
I was shocked to read about a warning in a letter signed by more than 15,000 scientists from around the world, that states that the population will drastically decline by 2100. One of the issues highlighted was the lack of freshwater. I soon realized that freshwater was an industry with little innovation.

From then, I started researching day by day using my engineering knowledge diligently and was soon captivated by the technology introduced by GENAQ corporation. I wasted no time in sending them an email of enquiry and found out that they would be in town for a convention and was fortunate enough to meet the CEO. I could understand the technology a lot more, but my curiosity continued to grow. Therefore, we decided to be partners. This led to the establish of the company in 2018.
Motivation for starting your own establishment
We spend a lot of hours in a day at work. I wanted to do something truly meaningful with my work. I felt a deep sense of purpose when providing water through my business. Whenever we receive an order or successfully make a sale, I feel a sense of fulfilment. I am pleased to be able to provide safe and fresh water to the community.

Building an enterprise comes along with lots of challenges and hardships. It takes strong conviction and persistence in overcoming these hurdles everyday.
Are you interested with working with Japanese companies?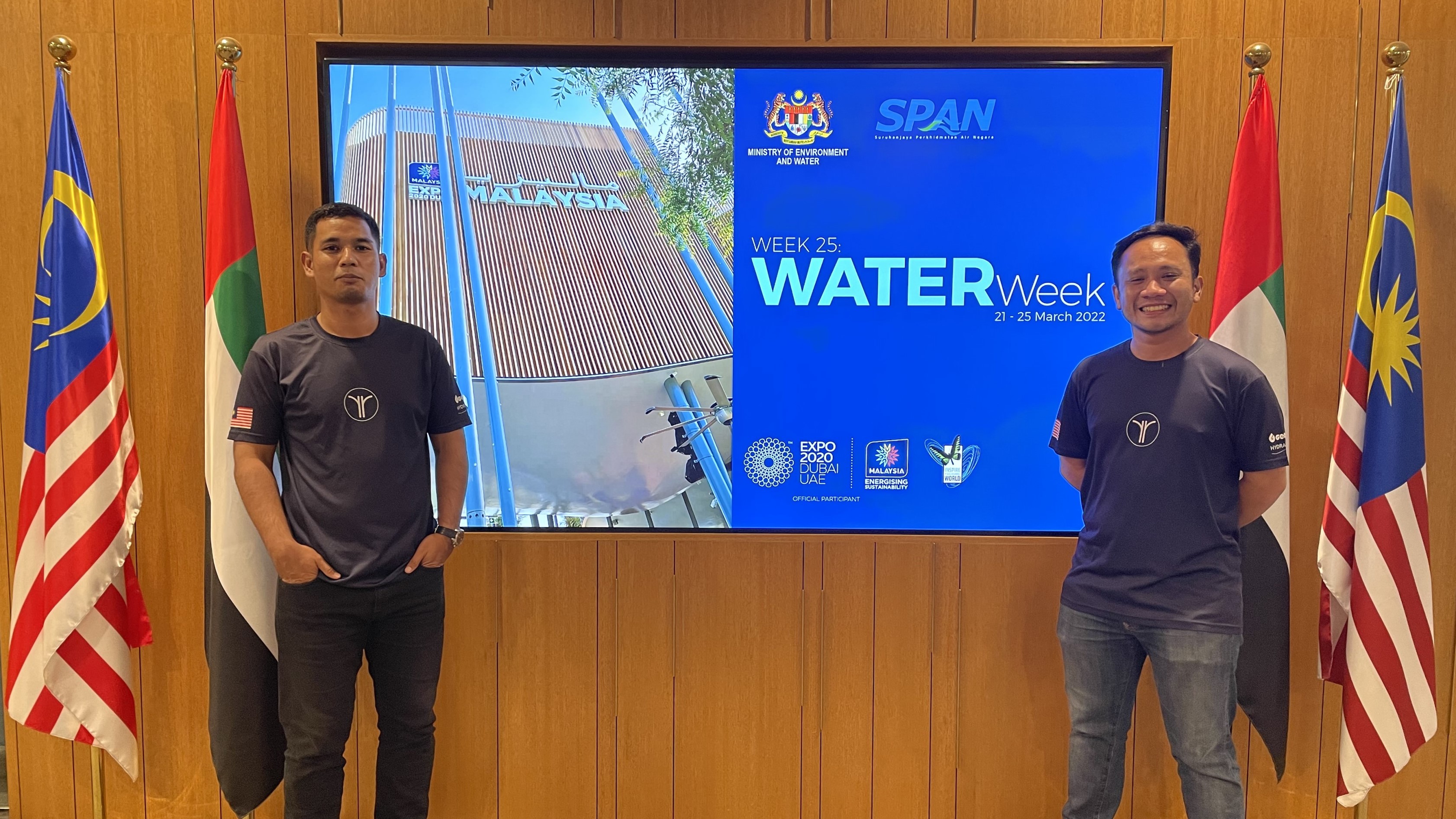 My study abroad in Japan for 2 years has definitely taught me a lot of knowledge and values. I am aware of the water supply facility in Japan and that tap water is drinkable. I believe that AWG can be used a backup source of water for remote islands or for emergency supply during natural disaster occurrences.
We welcome all interested parties as long as you see value in our business and is a win-win situation for both parties.
If there are any interested Japanese investors, please do not hesitate to reach out to us.
Company name
Rivil Sdn Bhd
Year of incorporation
2018
Business details
Water treatment technology
Editor's note: Mr Faizal's entrepreneurial journey began after an encounter with books and a cutting-edge technology company. He is now putting into action his desire of "doing something meaningful" daily. The current team also consists of students who studied abraod in South Korea, and are in talks of business partnerships with Korean companies. We hope their innovative processes of achieving "Water decentralization" would also garner cooperation with Japanese firms.

(Interviewed and written by Sugahara, July 2022) 
« マレーシア 製造業 業界レポート | IRGA Sdn Bhd - AgriTech »